Meet the Committee
Robert Gordon CMG, OBE – President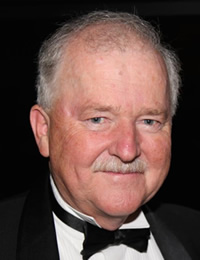 Robert Gordon is a former British diplomat who now divides his time between Salisbury in the United Kingdom and Narbonne in France.
Born in Trieste with an Italian mother and British father, Robert spent his early years in Germany, Cyprus and Aden at his father's military postings. After graduating in Modern Languages from Magdalen College, Oxford University, he joined the British diplomatic service in 1973. His career included assignments in South America as well as Western and Central Europe. From 1995-1999 he was British Ambassador to Burma (Myanmar) and from 2003-2007 British Ambassador to Vietnam. He was made an Officer of the British Empire (OBE) in 1983 and a Companion of the Order of St Michael and St George (CMG) in 1999.
Since retiring in 2008, he has lectured at the Ecole Nationale d'Administation and Strasbourg University. In 2011 he became President of the Britain-Burma Society and from 2011-2018 was Chairman of Prospect Burma, a charity helping young Burmese to study at universities abroad.
Robert is married to a fellow diplomat Pamela and they have four children and two grandchildren.
Daw May Tha-Hla – Chairwoman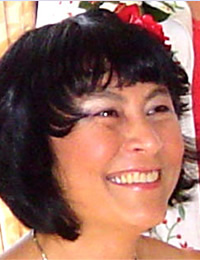 May was born in Rangoon to Rangoon University Rector Dr. Tha-Hla, educated at Methodist English High School, then exiled in the UK from 1963 till 1993.
Armed with a degree in Psychology from the University of Warwick, after a stint as a Prison Psychologist in HM Prison Service, May decided that a career in qualitative research was more her calling. Her qualitative career spanned over 30 years, running her own company.
Since Cyclone Nargis in 2008, with her husband Jon Wilkinson, she founded the charity Helping The Burmese Delta which works in the remotest parts of the Ayeyarwaddy division, building elementary schools, running a free high school tuition and boarding facility, and many other educational and developmental projects focussed on the delta.
She has also recently become a Trustee for the eTekkatho Foundation, an initiative encouraged by Aung San Suu Kyi, to bring digital information libraries to Myanmar universities, other educational institutions and local libraries.
Dr Soe Min Tun – Deputy Chairman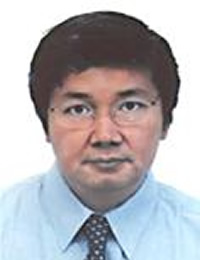 He was Hon Treasurer from 2000 to 2014.
Consultant in Electronics, specialising in antenna systems for radar and telecommunications.
He was born in Rangoon and studied at Queen Mary College, University of London.
He is also active in the field of information technology as a software developer.
His other interests include badminton, hockey, cosmology and science fiction.
Married to Lizzy – three children.
Barbara Brown (Htun Minn) – Membership Secretary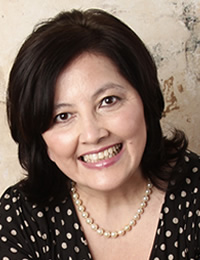 Took over the role of Membership Secretary from Derek Brooke-Wavell in October 2009.
She was born in Rangoon and came to the UK at the age of 9. Still speaks fluent Burmese and is proud and passionate of her heritage. Regularly returns to Burma to see family and friends and to explore more of the country. Her father was Lt Cdr Htun Minn in the Burma Navy and was trained as a deep-sea diver in the US Navy. Her English mother worked in the BOAC. Her grandfather, U Thein Maung, was a Commissioner in the Chin Hills and her Uncle, U Htun Linn was in the People's Police Force.
Married to David – has 2 daughters and 4 grandchildren. Currently working in the NHS as a PA / Secretary.
Tony Cantor – Meetings Secretary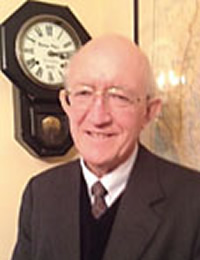 Tony Cantor worked for the Foreign & Commonwealth Office for 43 years, retiring in 2008. His first posting was to Rangoon, from 1968 to 1971. In that time he travelled to many areas of Burma, by road, river and rail.
Then followed postings to Japan, Ghana, Vietnam, Germany, Paraguay and Armenia, the last two as British Ambassador. His specialization is Japan, where he has spent a total of 14 years. He has been a Britain-Burma member as long as anyone can remember, but until retirement was not able to attend many meetings. He became Meetings Secretary at the start of 2011.
Married to Patricia, with three children and six grandchildren.
Derek Brooke-Wavell – Website Assistant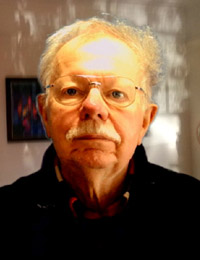 Derek is a former Burmese Section head of the BBC (1984-1995) as well as former Hon Secretary of this Society  (1997-2009).  He then nursed his wife Judy  until she died in 2018.  Derek was in Malaysia as a child; then he studied Chinese at Oxford – leaving there in 1964 – the same year that Daw Aung San Suu Kyi arrived.
During his spells in the Chinese and then Burmese sections of BBC World Service, floods of letters started to pour in from listeners, which in turn provided inspiration for programmes.  In the year before the Burmese post office closed in 1989, one fifth of all letters addressed to World Service from all over the world came from listeners in Burma.
Derek's hobbies are photography and gardening.  He has 4 children and 10 grandchildren.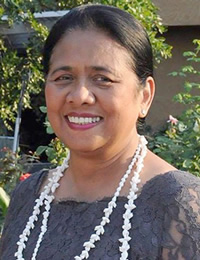 A former head of the BBC Myanmar section – the first Asian woman to reach that level. Born and educated in Yangon (MSc in Zoology) – later BA in PPH (London – Birkbeck College). A radio all-rounder known throughout Myanmar for her children's programme, as much as her current affairs interviews.
As "Paddybird Club" producer she took Myanmar children into the skies with her to learn hang-gliding – and, later, on regular "magic carpet" trips.
She is the moving spirit behind the annual Britain-Myanmar boat trip.
In recent years she has been intensifying her studies of Buddhism, and passed the Abidhamma (higher teachings of Lord Buddha) first level examination sponsored by the Myanmar Ministry of Religious Affairs in 2004.
Dr Daw Tin May Aye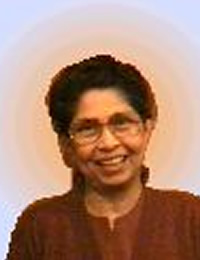 She and her late husband, Dr U Thet Tun, have worked as general practitioners in Britain for thirty years.
Fellow of the Royal Society of Medicine.
Among her interests she numbers Burmese culture, theatre and dances.
4 children – 10 grandchildren.
Vicky Bowman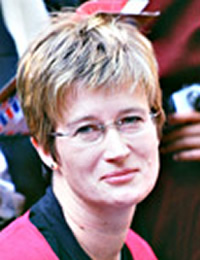 Former British Ambassador to Burma (2002-2006), and previously Second Secretary at the Embassy (1990-1993). Served six years in Brussels (1996-2002) including three years working for Chris Patten. Studied Burmese at SOAS in 1989-1990 with Anna Allott and U Khin (former BBS Deputy Chairman) who gave her her Sunday-born Burmese name, Ohnmar Khin.
She kept up her Burmese language by contributing to the 2nd and 3rd editions of the Lonely Planet Burmese phrasebook and translating many Burmese short stories and poems including Mya Than Tint's 'Tales Of Ordinary People' published by Orchid Press, Bangkok.
Now back in the UK with the Foreign Office and married to Burmese artist Htein Lin, with baby Aurora aka Ar Youn Lin, born in December 2007 and already a regular BBS meeting attender.
Dr William Crawley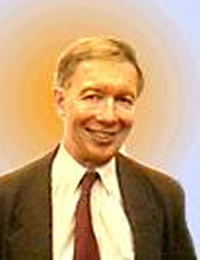 BBC Burmese section head 1979 – 1984 – and through his vigorous efforts the department was saved from the Foreign Office axe.
Continued to take a close interest in Burma – and this Society – after his promotions to be Assistant Head, then Head, of Eastern Service (which embraced everwhere from Iran to Burma)
Diana Millington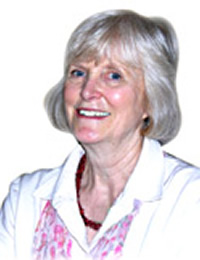 Diana's father and grandfather both served in the Indian Civil Service in Burma between 1904 and 1941. She was conceived in Burma but born in India, where her mother escaped after the start of World War 2. After a childhood spent in South Africa and studies at the University of Cape Town and Oxford University, she began a career in English teaching, which was to prove globally useful when she and her late husband Graham were posted to various countries around the world with the British Council – culminating in Burma in 2000. Their time in Burma was so rewarding that they returned there for a further 6 months to work all around the country as post-retirement volunteer teacher trainers.
Since then Diana has maintained close contact with Burmese friends, and returns for a month every year, teaching at the Buddhist Monastery School in Mandalay, where she built a library in 2002. She also collects books in the UK to send to impoverished students in Burma. She is moderator of the Travel Advice Forum on the Society's web site.
Daw Tin Tin Myaing ("Brenda")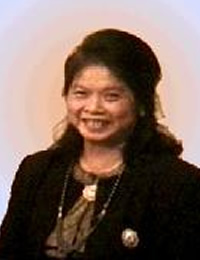 Daughter of Professor Pe Maung Tin, who had pioneered the faculty of Burmese language and literature at Rangoon University – and niece of the scholar GH Luce.
Brenda was herself a pioneer – in the French language and literature , which she studied as a State Scholar at the Sorbonne, and later taught at the Foreign Languages Institute in Rangoon (1967-1980). She also taught Burmese at the University of Paris.
Since then she has been in the UK raising three children, working as a librarian, and latterly translating and doing educational research. A socially-oriented "ideas person" within the Society, she is also sometimes able to supply members with copies of new publications about Burma.
David Brown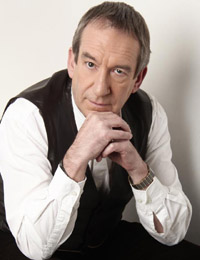 Details to follow.
Justin Watkins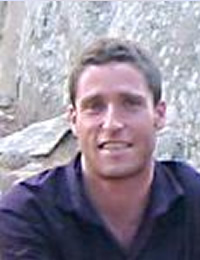 Justin Watkins is Senior Lecturer in Burmese and currently Head of the South East Asia Department at the School of Oriental and African Studies in the University of London, where he also teaches Khmer and Phonetics.
After a BA in Chinese and Russian at Leeds University, he arrived at SOAS in London to take an MA in Phonetics, and learnt Burmese with John Okell before starting research on the Wa language in Burma and Yunnan in preparation for a PhD in Phonetics at SOAS. He has visited Burma regularly since 1997.
Current research interests include the Wa Dictionary Project, phonetics and linguistics of Burmese and other South-East Asian languages, especially minority languages. Most recently, he has become interested in the languages of the Deaf communities in Burma, who use a number of number of interrelated sign-languages.
Extra-curricular interests include singing, running, cycling and walking. He lives in Brixton.
Ruth Isaacs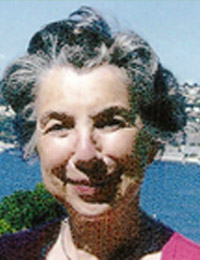 Ruth was born in Glasgow as was her late husband, Ralph.   After they were married in 1958, she gave up a promising career with Marks & Spencer in order to accompany him to Tanzania, Ghana, South Africa, Cyprus, Iran, London, Manchester and lastly Rangoon where Ralph was Cultural Attache at the British  Council from 1989-1994.   They gifted their collection  of Burmese lacquerware to the British Museum where  in collaboration with Richard Blurton an exhibition consisting mainly of the Isaacs' collection, was mounted in 2000.   Following Ralph's retirement they revisited Burma several times, the last occasion being in 2014 shortly after the publication of  Ralph's book "Sazigyo".   Having made many friends in Burma, Ruth is pleased to keep up her Burmese connections and participate again in the Britain Burma Society where prior to the onset of Ralph's illness, she had "manned" the front desk at The Medical Society of London for several years.
Mike Springate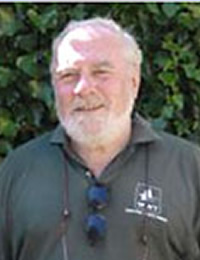 Retired executive, British Airways and Civil Aviation Consultant.
MA, D.Phil., Fellow CLIT & RAS. Widower, one son who lives and works in Berlin (as anchorman for DW TV).
Regional manager for BOAC in the Far East 1970-76 when my territory included Myanmar;, which I visited as often as possible.
Link to Anglo-Thai Society (Executive Council member). Interests: Treasurer, Association of European Journalists; birds – guide at London Wetland Centre [WWT]; writer (mainly poetry), cricket & world-wide traveller.